SecurityScorecard Vendor Risk Management Video
According to a recent Forrester report, more than 60% of enterprises lack visibility into vendor security posture and the risk posed by suppliers and other business partners in their expanding ecosystems. 
SecurityScorecard's Fall 2020 Release: Driving Cyber Resilience and Agility
SecurityScorecard's integrated platform simplifies cybersecurity monitoring and assessment workflows, extends the value of existing investments, and helps grow resilient cybersecurity roots.
Data Lifecycle Protection and Privacy
With privacy regulations brewing across the globe and consumers becoming more knowledgeable than ever about their privacy rights – can we now assume our personal data is now more secure than ever?
Trust & Transparency, Introducing SecurityScorecard's Trust Portal
CEO and Co-Founder of SecurityScorecard, Alex Yampolskiy, speaks about the fundamental importance of trust and transparency in security ratings.
Make Cybersecurity a Team Sport with SecurityScorecard
Is your team truly collaborative both inside and outside your organization when it comes to cybersecurity? Most organizations don't realize they lack a necessary cybersecurity solution to collaborate effectively and are not actually getting maximum value out of their existing investments.
The Golden Rules for Managing Third-Party Risk in the New Normal
In today's complex third-party ecosystem, companies implementing the right third-party risk management (TPRM) practices and solutions are managing the shift to remote work more effectively. 
SecurityScorecard Provides Undisputed Measurable Value
Annual questionnaires, on-site security assessments, and penetration and vulnerability tests can be time-consuming, labor-intensive, and because they are self-proclaimed, they can require further validation.
Collaborate More Effectively with your Third-Party Environment
SecurityScorecard's workflows enable you to collaborate with your third parties and be successful together.
Global Cyber Security Data Insights
Cyber attacks are jeopardizing businesses every minute of every day. As they grow more sophisticated, SecurityScorecard is constantly monitoring.
How Do SecurityScorecard Ratings Work?
Security rating companies use a combination of data points collected organically or purchased from public and private sources and then apply proprietary algorithms to articulate an organization's security effectiveness into a quantifiable score.
SecurityScorecard offers an overview of your organization's cyber security.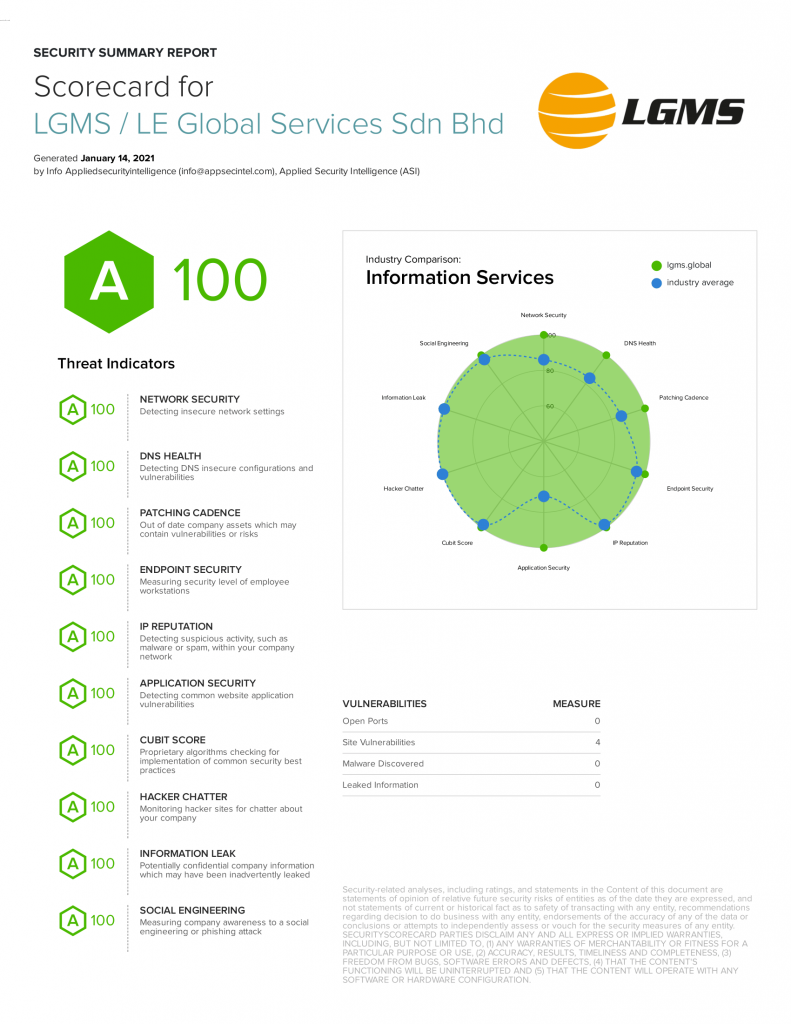 Founded in 2020, Applied Security Intelligence is a company under LGMS specialized in providing cyber security services with the help of threat intelligence.
Contact Us Applied Security Intelligence Sdn Bhd (1391368-M) A-11-01, Empire Office Tower, Jalan SS16/1, 47500 Subang Jaya, Selangor, Malaysia Phone: + (60) 3 8605 0155 Fax: +(60) 3 8605 0154 Email:
[email protected]
Quick Links Home SecurityScorecard ASI Continuous Monitoring About Us Contact Us
Applied Security Intelligence | All Rights Reserved